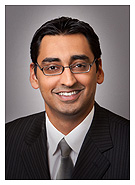 Dr. Rathi is a specialist in interventional pain medicine and the treatment of complex spinal and musculoskeletal disorders. A native of New Jersey, he was selected to participate in a prestigious accelerated medical degree program through Pennsylvania State University and Jefferson Medical College in Philadelphia, PA. After earning his Doctorate of Medicine from Jefferson, Dr. Rathi went on to complete his residency in Physical Medicine and Rehabilitation at New York University Medical Center and Rusk Institute of Rehabilitation Medicine. While in training, he served as chief resident at Bellevue Hospital, authored numerous publications and participated extensively in both inpatient and outpatient care at the NYU Hospital for Joint Diseases and the Manhattan Veteran's Administration Hospital. Following residency, Dr. Rathi completed an interventional spine fellowship at The Hospital of the University of Pennsylvania and the Penn Spine Center in Philadelphia, Pennsylvania.
Dr. Rathi's practice is focused on the management of complex spinal and musculoskeletal disorders including performing the following procedures:
Cervical, thoracic, lumbar transforaminal epidurals
Cervical, thoracic, lumbar facet intra-articular joint injections
Cervical, thoracic, lumbar medial branch blocks
Cervical, thoracic, lumbar Radiofrequency Ablation
Cervical, thoracic, lumbar discograms
Sacroiliac intra-articular injections
Intra-discal procedures
Knee, hip, and shoulder intra-articular injections
Trigger point injections
Dr. Rathi is also skilled in electrodiagnostic testing to diagnose disorders of the muscles and nerves including but not limited to radiculopathies, plexopathies, peripheral nerve entrapment, and peripheral neuropathies.
Licensure
State of New Jersey
Certification
Board Certified in Physical Medicine and Rehabilitation
Affiliations
Monmouth Medical Center, Long Branch, NJ
Education
Medical: Doctorate of Medicine, Thomas Jefferson Medical College, Philadelphia, PA 2004. Undergraduate: Bachelor of Science, Pennsylvania State University, State College, PA 2000
Post-Graduate Training
Fellow, Interventional Spine, PENN Spine Center, Hospital of the University of Pennsylvania, Philadelphia, PA 2008-2009
Chief Resident, Physical Medicine and Rehabilitation, Bellevue Hospital, New York, NY 2006-2007
Resident, Physical Medicine and Rehabilitation, Rusk Institute, New York University Medical Center , New York, NY 2005-2008
Intern, Internal Medicine, Lankenau Hospital, Wynnewood, PA, 2004-2005
Professional Memberships
International Spinal Injection Society
American Academy of Physical Medicine and Rehabilitation
American Society of Interventional Pain Physicians
North American Spine Society
Physiatric Association of Spine, Sports and Occupational Rehabilitation
American Medical Association